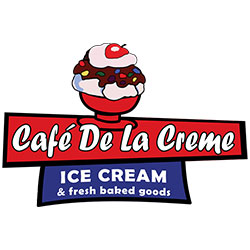 Café De La Crème has been serving St. Croix with quality ice cream for some 15+ years. We are conveniently located in the Sunny Isle Shopping Center near the outdoor theater and playground.
Come on by and be refreshed and delight in all we have to offer.
Ice cream, shakes, baked goods, hotdogs, chips, drinks…and more to come!
Membership Level: 0-5 employees
Categories: Desserts & Snack Shops, Restaurants & Bars
4500 Sunny Isles Shopping Center
Christiansted, VI 00820
Get Directions
Monday- Thursday: 11:00a-7:30p; Friday - Saturday: 10:00a-8:30p; Sunday: Noon-8:30p