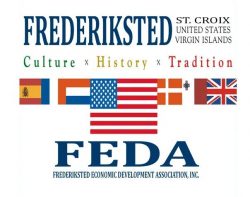 The Frederiksted Economic Development Association, Inc. (FEDA) was formed in 1996 with the mission being the enhancement and support of the economic, historic, cultural and tourism product of the town of Frederiksted,   St. Croix, US Virgin Islands.    
FEDA has worked and lobbied on behalf of the town, on many initiatives.  The organization worked closely with Congressmen from the US Delta Region to write legislation to obtain Enterprise Zone Status for  Frederiksted, Christiansted, and the Savan community of St. Thomas.  The bill was passed in 1999, and management of the Enterprise Zone Status is now under the Economic Development Authority. 
Membership Level: Non-profit
Categories: Non-Profit
FEDA, Inc.
ATTN: Addison Christian
PO Box 3262
Frederiksted, VI 00841
Get Directions
Monday - Friday: 9am - 5pm
Please login here to update your business.