Island Pride Beach Cleanup & Family Funday
September 22, 2018 @ 6:00 am

-

5:00 pm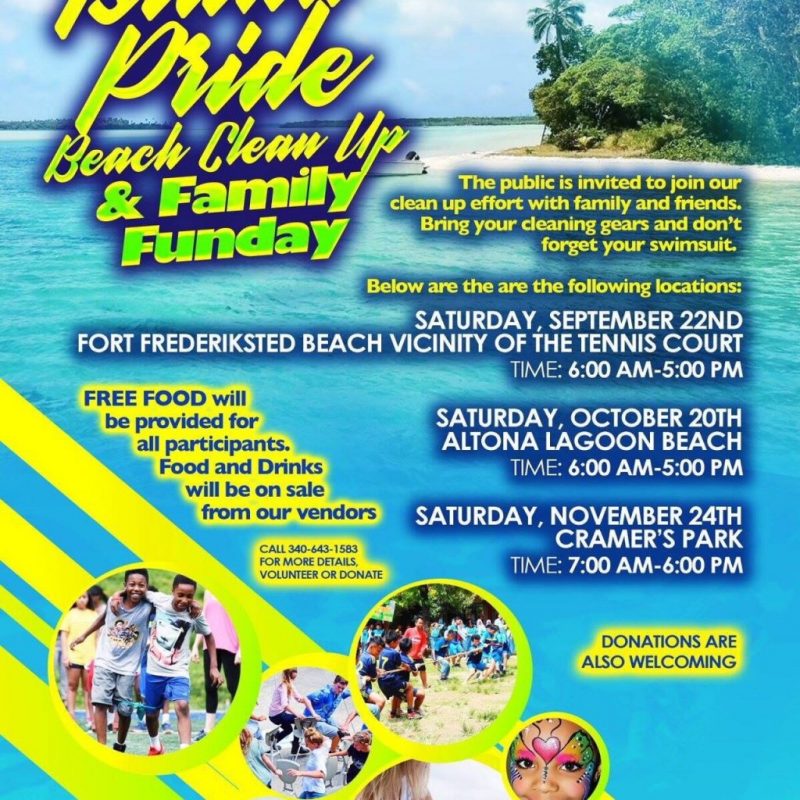 The public is invited to New Attitude first Island Pride family funday and registration drive for New Attitude Parent and Teen after program at the Fort Frederick beach in the vicinity of the Tennis court.
Free lunch for volunteers to include community service credits for students. Call:340-643-1583 to secure your lunch!
Anastasia "Stacy" Rivers is the founder of New Attitude Television Show Inc. highlighting positive people and event in our community.
The organization adopted three beaches on St.Croix, with plans to clean up and beautify the selected spots , to promote pride in our community.
As a retired VIPD Police and former Juvenile detective, Anastasia saw the need for a well rounded after school program that encourages parents participation.
As a result she founded New Attitude Parent and Teen after school program, offering learning tools for everyday living, building self esteem, future employment, owning a business and preparing for college.
The program was scheduled to begin September 24, 2018. The new date is October 8,2018 3:30-6:30. Followed by a meet and greet.
New Attitude board members and presenters are professionals, business owner and retirees.
The after school program targets students in the junior high and high school level.
A deserving senior attending our program will be the recipient of a scholarship to attend the University of the Virgin Islands.
Parents are required to participate the last Friday of every month as well as weekend activities and fundraisers.
Anastasia guarantees a safe and learning atmosphere with lost of fun activities.
Related Events
Chamber Member events are listed as a courtesy to our membership. Please contact the listed event organizer directly for details.
Chamber Members Click Here to add an event listing.
Not a Member? Join Today