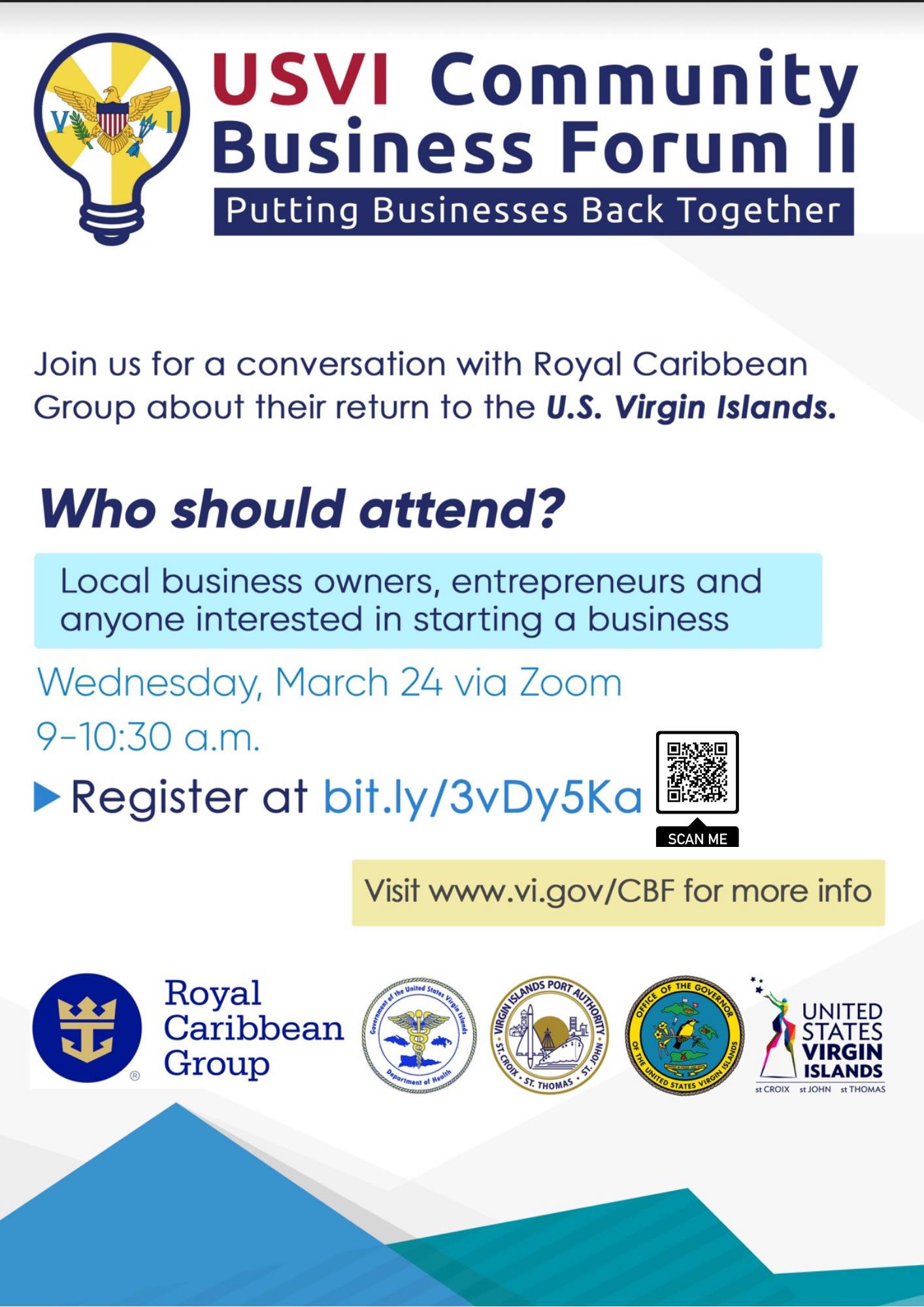 March 24, 2021 9:00 am - 11:00 am
For More Information and to Register or Watch Live on the Chamber's Facebook Page
ABOUT THE USVI CBF SERIES
COVID has impacted the US Virgin Islands economy in ways we could have never imagined. But the USVI is on the path to recovery and it is time to start a new conversation about putting our businesses, and our livelihoods, back together. 
This month's Community Business Forum – Part 2 is about getting businesses ready for the return of cruise ships to the USVI. Royal Caribbean Group will have a conversation with local businesses and anyone wanting to start a business about the type of services their passengers will need, especially under COVID guidelines.
Part of the discussion includes the VI Port Authority's two-port incentive program to bring more cruise calls to St. Croix and as well the Department of Health's new Healthy certification program for businesses.
Want more details? Please join the conversation. We want business owners to join, ask their questions and share their thoughts. Register Today!
The Agenda
WELCOME
The Honorable Albert Bryan Jr., Governor of the US Virgin Islands
The Honorable Tregenza A. Roach, Esq., Lt. Governor of the US Virgin Islands
OPENING REMARKS
David Bornn, Esq., Chief Legal Counsel, Office of the Governor
PREPARING CRUISE LINE-FOCUSED BUSINESSES
Royal Caribbean Group
USVI Department of Health: Justa Encarnacion, Commissioner – "Healthy Certification Program"
USVI Port Authority: Damian Cartwright, Asst. Executive Director – "Two-Port Incentives"
Chambers of Commerce: Q & A with Royal Caribbean Group
BREAK
ADAPTING & INNOVATING FOR COVID19: "USVI BUSINESS SURVIVOR STORIES"
Ramone Reid-Ventura, Cultured Naturals Body Care, St. Croix
Sandy Colasacco, Island Health & Wellness Center, St. John
Nilsa Serrano, Live, Love, Laugh Transportation + Taxi Services, LLC, St. Thomas
Oriel Blake, VI Professional Charter Association, St. Thomas
Q & A FOR ALL PRESENTERS
CLOSING REMARKS
Please submit any questions to: cbf@go.vi.gov
Category: Town Hall