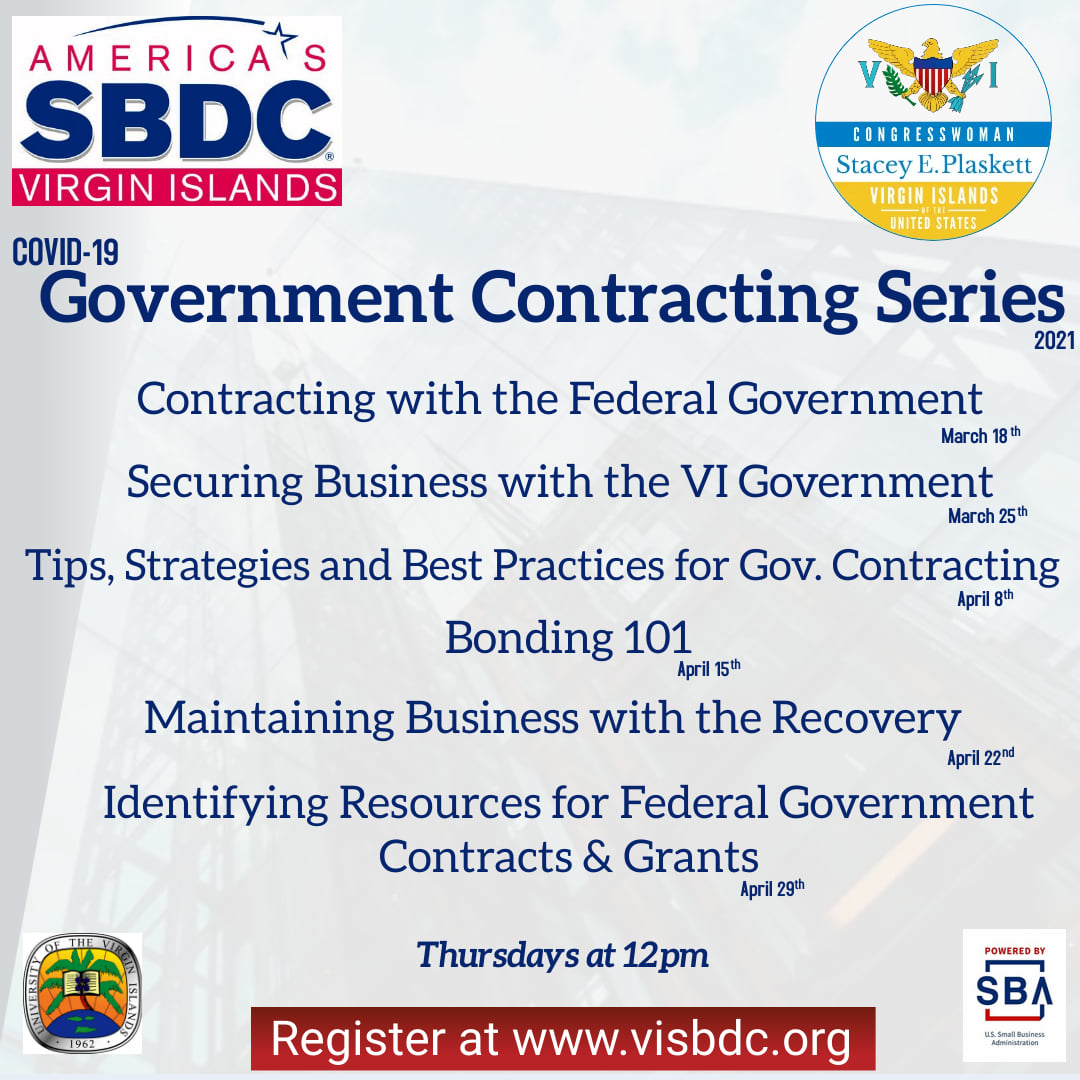 March 25, 2021 12:00 pm - 1:00 pm
The VI Small Business Development Center (VI SBDC) in collaboration the with the Office of Congresswoman Stacey E. Plaskett presents six webinars that will cover the who, what, where, when and how to do business with the federal and local government.
March 18, 2021
Government Contracting with the Federal Government is this one hour webinar on how to do business with the federal government. Topics to include: determining suitability for government contracting, understanding the language and basics of contracting, benefits of participating in a certification program and more.
March 25, 2021
Securing Business with the Virgin Islands Government is a presentation by the VI Department of Property and Procurement on how to do business with the Virgin Islands government.
April 8, 2021
Tips, Strategies and Best Practices for Government Contracting will provide some first hand information from a business owner on contracting with the Federal and the Virgin Islands Government.
April 15, 2021
Bonding 101: A Key to Government Contracting will provide participants with information on the basics of bonding and the integral role it plays in securing government contracts.
April 22, 2021
Maintaining Business with the Recovery is the focus of government contracting by the Office of Disaster Recovery (ODR). ODR will provide the attendees with the information on how to tap into this realm of government contracting.
April 29, 2021
Identifying Resources for Federal Government Contracts and Grants will focus on how and where to access the various resources that can help small businesses and organizations in their pursuit of federal government contracts and/or grants.
Category: webinar