Please visit this page often as this situation is fluid and changing daily.
Below are updates and resources with links to official information related to the ongoing COVID-19 pandemic.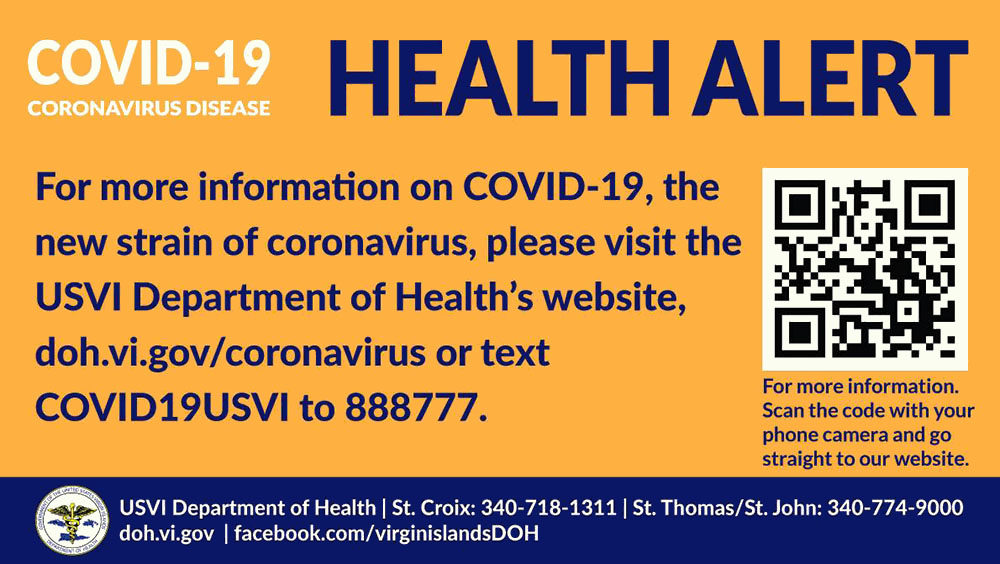 To Sign up for USVI alerts related to the COVID-19 virus text COVID19USVI to 888777
COVID19 Cases in USVI
Positive: 23
Negative: 123
Pending: 37
Deaths: 0
Last Updated: Saturday, March 28, 2020 7:00 pm
Source: VI Dept of Health
To request a test call VI Dept of Health call 340-712-6299 or 340-776-1519
Currently only those exhibiting symptoms who have traveled within the past 14 days are tested.
For Medical emergencies call 911
USVI Community Hotline for questions related to COVID-19 call 340-715-6843
Current USVI Response:
This is an ever-changing and fluid situation. Please refer to www.vi.gov for up-to-date information regarding restrictions and closures.
USVI businesses are now eligible to apply for SBA Economic Injury Disaster Loans at https://disasterloan.sba.gov/ela
As of Saturday, March 21, 2020 from the Governor's Press Briefing:
"We are asking our residents to stay-at-home unless absolutely necessary," Governor Bryan said, "We do not take these decisions lightly. We are motivated by the critical need to keep our community safe."
The Governor is increasing the Territory's efforts to stop the spread of the COVID-19 virus with the following new policies:
There is a State of Emergency in Effect.
No more than 10 persons in any business from this point forward (exempt are grocery stores)
Social Distancing. Try to stay at least 6-feet away from others.
Anyone arriving in the US Virgin Islands must self-quarantine for 14 days and report any symptoms to the USVI Department of Health.
No camping for Easter.
Beaches are open. No parties, no BBQs.
Landlords are prohibited from evicting tenants.
The Governor has asked for retired law enforcement and medical persons to come back to work. Government retirees will continue to receive their GERS annuities if they come back to work. Call 340-774-8588 or 340-718-8588 for further information.
The 33rd Legislature will meet in Emergency session on Friday, March 27.
As of Monday, March 23rd:
Non-essential businesses should cease in-person business operations until at least Monday, April 6, and should require their employees to stay home.
All bars are closed. Bars in restaurants are take-out only
Restaurants – no dine-in allowed; take-out only
Essential Government employees only are to report to work.
Taxi capacity reduced by 50%
As of Wednesday, March 25th:
Hotels, guest houses, villas, bed and breakfasts, and similar businesses should not accept new guests for the next 30 days. Fines will be enforced.
There is a "Stay at Home" order. This is not a curfew. The only place in the US that has imposed a curfew so far is Puerto Rico.
Essential business are exempt for the "stay at home order" Essential business are grocery stores, gas stations, medical care offices, and "core life services" for a detailed list: Governor Bryan Advises Residents to Stay at Home
---
USVI Department of Labor/Unemployment Information
The Dept of Labor is trying to avoid volumes of crowds coming to the office at one time. They are requesting that businesses have a representative from your establishment call the Agency before notices of separation are issued so that they can be aware of how many people can be expected to file for unemployment assistance and other services. They request that you send applications to the affected employees so that they can fill them out before coming to the office. You can find the forms at vidol.gov
Unemployment Insurance (UI) Employer Best Practices
Any employer that needs to reduce hours, give furloughs, layoffs or possible reduction in hours, the VIDOL is requesting that employers do the following:
Send a letter to the Office of the Commissioner that includes the names of the affected employees in advance of the reduction of hours to twenty (20) a week, discharge or layoff.
Contact the Department of Labor directly at the following numbers:

St Thomas 340-776-3700 extensions 2013 or 2035
St Croix 340-773-1994 extensions 2152 or 2154

Timely file your quarterly reports. The filing of quarterly reports is necessary to assure persons receive the correct unemployment compensation.
Send a notice to the employee with the reason for the separation before reducing in hours, discharge or layoff.
The VI Department of Labor will be open to the public; however, the following limits will be set for occupancy of common areas:
There is a maximum capacity limit set to minimize the number of clients in the lobby at a time.
There is a maximum capacity of the resource rooms varies by district at this time. For more information on capacity detail call the Department before visiting in person.
---
Business Resources Related to Coronavirus

SBA & SBDC
The U.S. Small Business Administration (SBA) is offering designated states and territories low-interest federal disaster loans for working capital to small businesses suffering substantial economic injury as a result of the Coronavirus (COVID-19).
USVI businesses are now eligible to apply for Economic Injury Disaster Loans at https://disasterloan.sba.gov/ela
Applications are received online. There will be no Business Recovery Center to accept applications in-person as was the case after Hurricanes Irma and Maria.
For assistance, applicants may call 800-659-2955 or email disastercustomerservice@sba.gov. SBDC staff on both St. Thomas and St. Croix are also available for assistance in person by making an appointment at 340-693-1694.
U.S. Small Business Administration Administrator Jovita Carranza announced on March 23, 2020 changes to help borrowers still paying back SBA loans from previous disasters. By making this change, deferments through December 31, 2020, will be automatic. Now, borrowers of home and business disaster loans do not have to contact SBA to request a deferment.
"The SBA is looking at every option and taking every action to cut red tape to make it easier for small businesses to stay in business. Automatically deferring existing SBA disaster loans through the end of the year will help borrowers during this unprecedented time," said Administrator Carranza. "Today's announcement adds a list of growing actions the SBA is taking to support small businesses. These actions include making it easier for states and territories to request a declaration so small businesses statewide can now apply for economic injury disaster loans, and changing the terms of new economic injury loans to allow for one-year deferments. We are working around the clock to find ways to assist small businesses and today's action is one step in this process."
The most up-to-date information on SBA'a available resources may be found at www.SBA.gov/Coronavirus
US Chamber of Commerce
USVI Department of Human Services
The Federal Block Grant program provides funding that enables approved applicants to find and afford child care for children ages zero to twelve.
In this current State of Emergency, the Office of Child Care and Regulatory Services will only process Block Grant Applications for Informal Child Care Providers (known as Family, Friends, and Neighbor Care). No new Block Grant Applications will be accepted for child care centers.
Because most child care centers have reduced their hours or closed entirely, DHS is providing financial assistance (Federal Block Grant):
For care provided by informal childcare providers (i.e. family members, friends, neighbors not living in the child's home)
For children ages zero to twelve years old

For families (who are required to report to workplaces the Governor specified as essential or important to remain open during this State of Emergency)

Income eligibility determined on a case by case basis
Block Grant (Child Care) applications are now available for parents and guardians on the Department of Human Services website Child Care and Regulatory Services page – www.dhs.gov.vi/OCCRS/index.html. The application can be downloaded, filled out and sent in, or an application can also be picked up, when necessary (from 8:00 a.m. – 2 p.m., Monday through Thursday), at:
St. Croix – Office of Child Care, #129 Golden Rock
Informal Provider (Family, Friend, Neighbor – FFN) Application
Individuals selected by the parents or guardians to take care of children, ages 0-12, must also complete the Informal or FFN Provider Application, which can be downloaded on the Department of Human Services website Child Care and Regulatory Services page at www.dhs.gov.vi/OCCRS/index.html.
To be approved as an Informal or FFN Provider, the provider cannot live with the parents or children. A clearance by the V.I. Police Department Criminal Records and V.I. Sex Offender Registry is required for all non-family child care providers.
---
VI Department of Justice
Department of Justice facilities on St. Thomas and St. Croix are closed to the public and will not conduct person-to-person services until further notice. Department of Justice's four facilities that will be closed to the public include the Office of the Attorney General. Services to be provided electronically or telephonically include administrative claims and questions regarding pending criminal cases.
The Sex Offender Registry, a division of the V.I. Department of Justice, will also be closed to the public; however, registration requirements remain in place. Sex offenders who are residing, employed, or attending school in the Territory and need to register or update their information must do so telephonically or via email. https://usvidoj.codemeta.com/.
Virgin Islands Fire Service
The Virgin Islands Fire Service's Prevention and Administrative Offices in both districts will have limited hours of operation and will be open to the public from 8 a.m. to 4 p.m. on Mondays and Wednesdays only. The reduced hours will remain in effect until further notice. Businesses that have fire certificates that have expired or will expire during the current state of emergency will be given a 60-day extension.The Fire Service's emergency response operations will remain uninterrupted.
Office of Collective Bargaining
The Office of Collective Bargaining will be closed, beginning Tuesday, March 24, until April 6. Calls may be made from 8 a.m. to 5 p.m. Monday through Friday to 340-774-6450 or 340-713-0735.
VI Waste Management Authority
All bid packages should be submitted electronically to the Authority, and all open solicitations in response to the Waste Management Authority's recent projects opened for bid will be accepted via email only. The solicitations shall adhere to the previously established date and time as indicated on the respective advertisement. Please forward the completed document to sdavid@viwma.org and/or jthomas-blyden@viwma.org, or visit www.viwma.org.
VI Energy Office
All individuals with applications for the Energy Efficiency & Renewable Energy Financial Incentive Program are required to submit them by email, fax or mail service until further notice. The VIEO has waived the 30-day application deadline so that customers who purchase qualifying items can capitalize on these rebates, which includes items purchased as of March 1, 2020. For more information visit: www.facebook.com/VirginIslandsEnergyOffice.
Department of Public Works
In-person interactions are limited in offices territory-wide, and in-person complaint submissions are suspended until further notice. Complaints will continue to be accepted by telephone, email and online. Cemetery office guests will be limited to two guests per visit. For more information visit www.Dpw.vi.gov.
Department of Licensing & Consumer Affairs
The Department of Licensing and Consumer Affairs (DLCA) is asking the public to utilize department's online website at www.dlca.vi.gov for business license renewals or new business license applications, to schedule appointments and to file consumer complaints online.
Department of Finance
The Department of Finance is conducting all business electronically whenever possible. For more information visit www.dof.vi.gov.
Department of Tourism
The Department of Tourism is providing updates to visitors to the US Virgin Islands at www.usviupdate.com.
VI Lottery
The VI Lottery our offices in both Districts will allow five customers into the lobby at a time. Dealers are asked to provide requested ticket numbers in advance to avoid line delays and ensure expedient service. Dealers will be provided with their listings to make those selections once requested in advance. On-site St. John sales are be postponed until further notice. For more information, call 340-774-2502 on St. Thomas or 340-778-6360 on St. Croix or visit www.winvilottery.com.
Department of Human Services
The VI Department of Human Services Head Start Program has closed classrooms territory-wide. VIDHS staff are to report to work as normally scheduled.
Department of Education
All public schools are closed through April 14. The Department of Education has announced cancellation of several activities including distribution of progress reports and postponement of the Smart Balanced tests until fall 2020. For more information visit www.vide.vi.
WAPA
Virgin Islands Water and Power Authority customer service offices territory-wide will offer only limited service to walk-in visitors. All business transactions should be conducted either online or via telephone until further notice.
Customer Service offices can be reached by calling 340-774-3552 or 340-773-2250 and selecting option 5. For more information visit www.viwapa.vi.
Bureau of Corrections
In-person visitations at all correctional facilities are suspended, and all volunteer programs, work details and furloughs also are suspended until further notice. For more information visit www.boc.vi.gov.
Judicial Branch of the US Virgin Islands
All in-person proceedings scheduled to commence on or before April 1, 2020, before any judicial officer in any Judicial Branch facility are postponed, and no new proceedings will be scheduled. The only exception to the suspension of in-person proceedings are Advice of Rights and Stalking and Domestic Violence matters, which will continue to be heard in-person subject to limitations set by the Presiding Judge of the Superior Court. Advice of Rights will only take place at 9 a.m. on Mondays, Wednesdays, and Fridays. For more information, contact: Tel: 340-774‐2237, Fax: 340-774‐2258 or TTY: 340-693-4118.
33rd Legislature All hearings and meetings in both districts have been postponed, and the Legislature is restricting visitation to its facilities, which are closed to members of the public
US Virgin Islands Official Reference Sites
Official CoronavirusReference Sites
Internal Revenue Service (IRS) Updates
The IRS has pushed back the Federal tax filing deadline from April 15 to July 15 according to the Treasury Department. More information regarding IRS Tax Relief can be found at irs.gov/coronavirus
CDC Guidance
The CDC has compiled some excellent guidance for business owners: Interim Guidance for Businesses and Employers, Plan, Prepare and Respond to Coronavirus Disease 2019
Other important CDC links:
OSHA Guidance Resources related to COVID-19
FEMA Response and Resources
Coronavirus (COVID-19) Response
US Virgin Islands Departments – Resources
USVI Department of Human Services
Cash, Food and Energy Assistance Programs Ready to Help Through Uncertain Times with Telephone Interviews and Relaxed Federal Guidelines
In response to the Covid19 Pandemic, the USVI Department of Human Services' (DHS) Division of Family Assistance announced that their Supplemental Nutrition Assistance Program (SNAP – formerly known as Food Stamps), cash, and energy assistance programs are ready to serve existing and new clients through conducting interviews via telephone rather than in person for everyone's health and wellness. Download Details below:
WTJX Educational Resources