Please visit this page often as this situation is fluid and changing daily.
Below are updates and resources with links to official information related to the ongoing COVID-19 pandemic.
COVID-19 in the USVI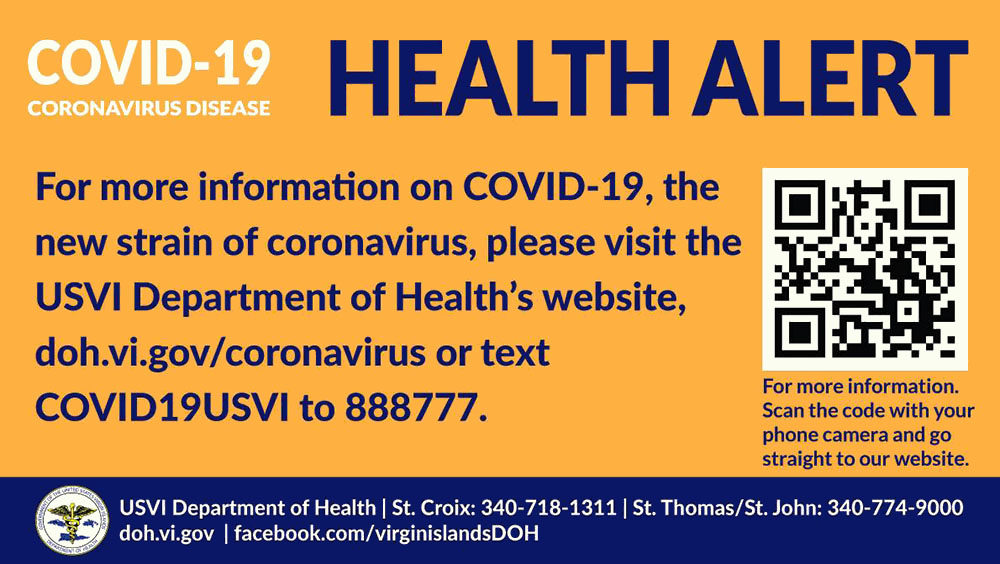 To Sign up for USVI alerts related to the
COVID-19 virus text COVID19USVI to 888777
Positive: 92 (46 STX; 42 STT; 4 STJ)
Tested Negative: 2924
Total Tested: 3055
Pending: 39
Death: 6
Last Updated: As of July 01, 2020
Source: VI Dept of Health
To request a test call VI Dept of Health call 340-712-6299 or 340-776-1519
USVI Community Hotline for questions related to COVID-19 call 340-715-6843
For Medical emergencies call 911
Current USVI Response:
View Updated Government Office Hours & Operations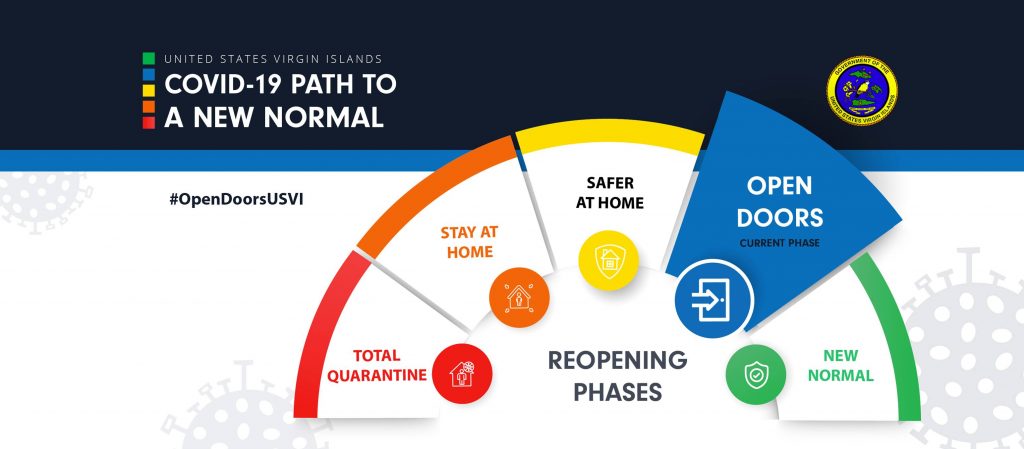 July 1st Update:
Governor Albert Bryan Jr. updated the public on Thursday, July 1, 2020 during his Press Briefing on new Executive orders for the holiday weekend and going forward as follows:
As of tonight until further notice:
All bars must close by midnite, last call nightly is 11pm
All alcohol sales throughout the Territory are prohibited from 11pm through 6am. This includes gas stations and convenience stores as well as bars and restaurants.
All patrons in bars, restaurants, etc must wear a mask at all times except when consuming food or taking a drink.
For the Holiday Weekend: Friday, July 3rd; Saturday, July 4th; Sunday July 5th
All beaches must be completely vacated by 4pm. This includes parking lots and roadside surrounding areas.
No DJs on the beaches, No big parties. (Beaches reopen at 6am)
The Emancipation Day Fort to Fort walk has been approved (starting at 4am Friday morning). Social distancing and masks are required.
Updates to Limetree Refinery Contractor and Employee Protocols
As Limetree contractors and employees traveling to the Territory have been a concern, protocols have been updated.
All Limetree contractors and employees coming in from hot spot states are required to test COVID negative within 72 hours of traveling to St Croix.
Upon arrival to St Croix, they are quarantined for 72 hours and then tested again.

If tested positive, they remain in quarantine.
If negative, they are released to work at Limetree.
There is a State of Emergency in effect. The Territory is currently in Phase Blue: Open Doors as of Monday June 1, 2020 and is reopened to travelers.
The transition will be managed according to a five-tiered system

Red – Total quarantine
Orange – Current Stay-At-Home order (in effect until 6 a.m. Monday, May 4)
Yellow – Safer At Home order (effective May 4)
Blue – Open Doors (hotel reservations and leisure guest bookings permitted; restaurants open for seating – effective June 1)
Green – New Normal
Phase Blue: Open Doors tier Monday, June 1 USVI reopens to travelers.
All Businesses Open
Hotels, Villas, BNBs, etc may check-in off-island guests
Indoor/Outdoor recreation facilities open, no food or drink (movies, bowling alleys)
No gathering greater than 50, no gathering without facial covering and social distancing
Facial coverings in all commercial entities; No mask, no service
Schools, daycares closed
Nursing homes limited visitation
Tuesday, May 26 Bars and Restaurants may reopened at limited capacity for dine-in service with the following in place:
Seating capacity at 50% of the established normal seating with a maximum of 50 customers or for dine-in (the lesser of the two) – Example: if your seating capacity is 40, you will only be allowed to seat 20; if your seating capacity is 200, you will only be allowed to seat 50.
Tables must be at least 6 feet apart
Bar stools must be 6 feet apart
Employees are required to wear facemasks at all times.
Restaurants must provide proper hygiene and sanitizing stations for employees and patrons
No parties larger than 6
See current Guidance for Restaurants, Bars & Nightclubs
Vulnerable individuals should stay at home to the greatest extent possible, and for purposes of this Executive Order are characterized as persons 65 or older; persons with chronic lung disease or severe asthma; persons with serious heart conditions; persons who are immunocompromised; and pregnant women.
Executive Orders related to COVID-19
Executive Orders provide more detail on the current status and allowed business operations
---
The income tax filing deadline for 2019 tax returns has been extended to July 15, and the Taxpayer Assistance Program has been suspended until further notice.
Those who have not filed their 2018 taxes with the BIR are encouraged to do so as Stimulus checks are based on 2018 filings. Seniors on Social Security who do not file taxes (earnings are below the tax threshold) will not need to do so. Social Security information is being shared with the VI Government to include mailing addresses for stimulus checks.
If you received a Stimulus check already via your filing in another state, you are required to contact the VI BIR to prevent a duplicate check being sent to you.
Press Release: VI BIR Cautions Against Receiving Duplicate Stimulus Checks
---
Business Resources Related to Coronavirus

For more details on funding sources and options> SBA Coronavirus Relief Options
---
USVI Department of Labor/Unemployment Information
The Dept of Labor is now providing online applications for Unemployment on their website at vidol.gov . They are requesting that businesses have a representative from your establishment call the Agency before notices of separation are issued so that they can be aware of how many people can be expected to file for unemployment assistance and other services.
They will also have a drop box for physical applications for those who are not able to fill out the application online.
Unemployment Insurance (UI) Employer Best Practices
Any employer that needs to reduce hours, give furloughs, layoffs or possible reduction in hours, the VIDOL is requesting that employers do the following:
Send a letter to the Office of the Commissioner that includes the names of the affected employees in advance of the reduction of hours to twenty (20) a week, discharge or layoff.
Contact the Department of Labor directly at the following numbers:

St Thomas 340-776-3700 extensions 2013 or 2035
St Croix 340-773-1994 extensions 2152 or 2154

Timely file your quarterly reports. The filing of quarterly reports is necessary to assure persons receive the correct unemployment compensation.
Send a notice to the employee with the reason for the separation before reducing in hours, discharge or layoff.
US Virgin Islands Departments & Resources
Official CoronavirusReference Sites
US Virgin Islands Official Reference Sites
Internal Revenue Service (IRS) & BIR Updates
The IRS has pushed back the Federal tax filing deadline from April 15 to July 15 according to the Treasury Department. More information regarding IRS Tax Relief can be found at irs.gov/coronavirus
The income tax filing deadline for 2019 tax returns has been extended to July 15, and the Taxpayer Assistance Program has been suspended until further notice.
All face-to-face appointments have been cancelled until mid-April.
Taxpayers who need to clear imported goods through excise tax offices are asked to use the online system at https://excise.bir.vi.gov.
All tax returns that need to be filed should be done by mail, with a certified receipt, if possible. Include an extra copy of the return stamped, self-addressed envelope so the Bureau can return a stamped copy.
The St. John office is closed until further notice. St. Croix and St. Thomas office hours are 8 a.m. to 3 p.m. weekdays, and cashiering services will be available from 8 a.m. to 2 p.m. daily until further notice.
For more information, call 340-773-1040 on St. Croix and 340-774-1040 on St. Thomas. Use the following extensions and email address for specific needs:
The Bureau of Internal Revenue website is bir.vi.gov.
FEMA Response and Resources
Coronavirus (COVID-19) Response
OSHA Guidance Resources related to COVID-19
USVI Department of Human Services
Cash, Food and Energy Assistance Programs Ready to Help Through Uncertain Times with Telephone Interviews and Relaxed Federal Guidelines
In response to the Covid19 Pandemic, the USVI Department of Human Services' (DHS) Division of Family Assistance announced that their Supplemental Nutrition Assistance Program (SNAP – formerly known as Food Stamps), cash, and energy assistance programs are ready to serve existing and new clients through conducting interviews via telephone rather than in person for everyone's health and wellness. Download Details below:
WTJX Educational Resources
CDC Guidance
The CDC has compiled some excellent guidance for business owners: Interim Guidance for Businesses and Employers, Plan, Prepare and Respond to Coronavirus Disease 2019
Other important CDC links: