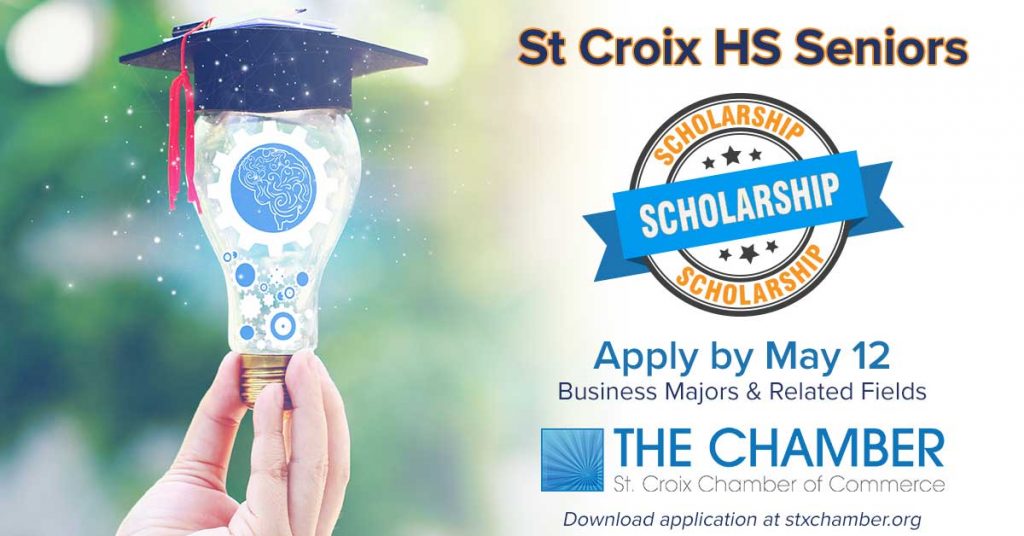 The annual St Croix Chamber of Commerce Scholarship is available to graduating high school seniors planning to major in Business Management, Administration, and/or related fields such as, but not limited to, Accounting, Finance, Marketing, Information Technology.
The Application Deadline is May 12, 2020
One four year scholarship will be awarded. The monetary amount of the scholarship shall be a maximum of $4,000 payable up to $1,000 per year.
The scholarship awarded will be payable to the student for college tuition, books and expenses.
The first of 4 payments of up to $1,000.00, will be made payable to the scholarship recipient upon presenting, to the St. Croix Chamber of Commerce, proof of enrollment (class schedule & registration invoice) to the recipient's university or college of choice.
To maintain the scholarship, the recipient must maintain a minimum GPA of 3.0 or above each year while attending the university or college and must present the official transcript evidencing same to the St. Croix Chamber of Commerce prior to funds being released annually.
This year, the Chamber recognizes that many students may not have access to a printer due to the current stay-at-home orders related to the COVID-19 pandemic. For this reason, applications may be filled out and signed electronically and then mailed along with all supporting documents to info@stxchamber.org
Be sure to review the checklist to ensure that all necessary documents are attached with your application!
Mail applications directly to The St. Croix Chamber of Commerce as shown below:
The St. Croix Chamber of Commerce
Attn: Scholarship Committee
P.O. Box 4355 Kingshill, VI 00851
For further information email info@stxchamber.org