U.S. Virgin Islands Economic Development Authority hosts forum to attract new business investment to the Territory
CHARLOTTE AMALIE, St. Thomas, U.S. Virgin Islands – June 24, 2019 — Business investment opportunities captured high interest among eight prospective investors at a U.S. Virgin Islands Investor Forum on St. Thomas and St. Croix. U.S. Virgin Islands Economic Development Authority (USVIEDA) representatives – and their public and private sector partners – welcomed the prospective investors from June 13-15, 2019.
USVIEDA hosted the Investor Forum as a spinoff event following the 2019 SelectUSA Investment Summit held in Washington, D.C., from June 10-12, 2019. At the Investor Forum, prospective investors gained business intelligence insights and access to USVI properties available for development. They also experienced first-hand the attributes that make the USVI a unique, prime location to live and do business, which can lead to job creation and revenue generation in the Territory.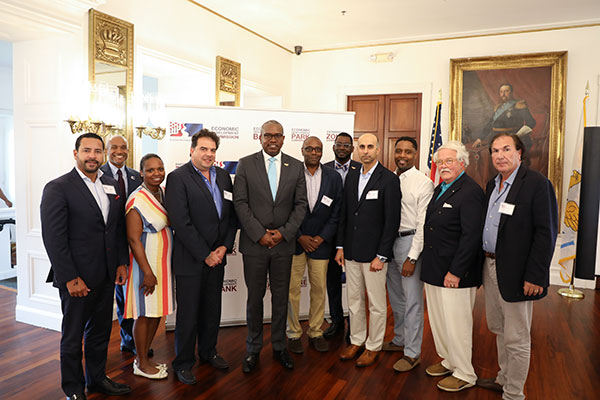 This Investor Forum was one of many spinoff events held throughout the nation to help communities attract investment. This Forum is also one of USVIEDA's key business marketing initiatives promoting the Territory's economic eco-system and business investment attraction program.
The prospective investors toured sites available for hotel and resort development in St. Thomas and interfaced with senior government officials during a luncheon and dinner. In St. Croix, they discovered industrial investment opportunities during a site visit, engaged the Honorable Governor Albert Bryan, Jr., Senator Allison DeGazon and several cabinet members during a business luncheon. They also toured King's Alley Hotel and exchanged notes with USVIEDA team members during an evening reception.
Prospective investor Peter Irving, vice president of Business Development at Suntuity, found the Forum to be extremely beneficial, especially for making connections. "This Forum was a pivotal event. And our visit to the St. Croix Renaissance Park was extremely important as we met with the park's Vice President and General Manager Jehangir Zakaria. We also met with representatives from the Queen Louise Home for Children as a potential non-profit for our charitable contributions on St. Croix," said Mr. Irving. "We will gladly apprise of next steps as soon as possible," added Mr. Irving.
"The USVI spinoff event gave us an opportunity to directly engage prospective investors and share information about our infrastructure, investment attraction program, and properties available for development," said Kamal I. Latham, USVIEDA chief executive officer. "I thank our Managing Director for Marketing and 2040 Vision Shanell Petersen for organizing this impactful Forum as well as our USVIEDA team members, and public and private sector partners for making this engagement a great success," added CEO Latham.
To learn more about the USVIEDA business investment attraction program, visit www.usvieda.org.   For more information on investment properties, visit www.investusvirginislands.com and to learn about the SelectUSA Investment Summit, visit www.selectusa.gov .
About the U.S. Virgin Islands Economic Development Authority:
The U.S. Virgin Islands Economic Development Authority (USVIEDA) is a semi-autonomous governmental instrumentality. It promotes economic growth, job creation, and wealth generation in the U.S. Virgin Islands. The USVIEDA assumes, integrates and unifies the functions of these four entities: Economic Development Commission, Virgin Islands Economic Development Park Corporation, Economic Development Bank and the Enterprise Zone Commission. The USVIEDA accomplishes its mission by attracting investors to the Territory to establish or relocate their business in the U.S. Virgin Islands. It also provides financial assistance for new and existing small to medium-sized businesses in the Territory and assists V.I. residents and business owners with rehabilitating their properties located in distressed areas that were once vibrant economic centers of activity in the Territory. Learn more about the USVIEDA at www.usvieda.org  or send an email to info@usvieda.org.
# # #