VIDOL Reminds Employees Affected by Recent Limetree Bay Lay-offs of Rapid Response Event Scheduled for July 21,-22 2021 from 9am – 4pm at the Limetree Bay Facility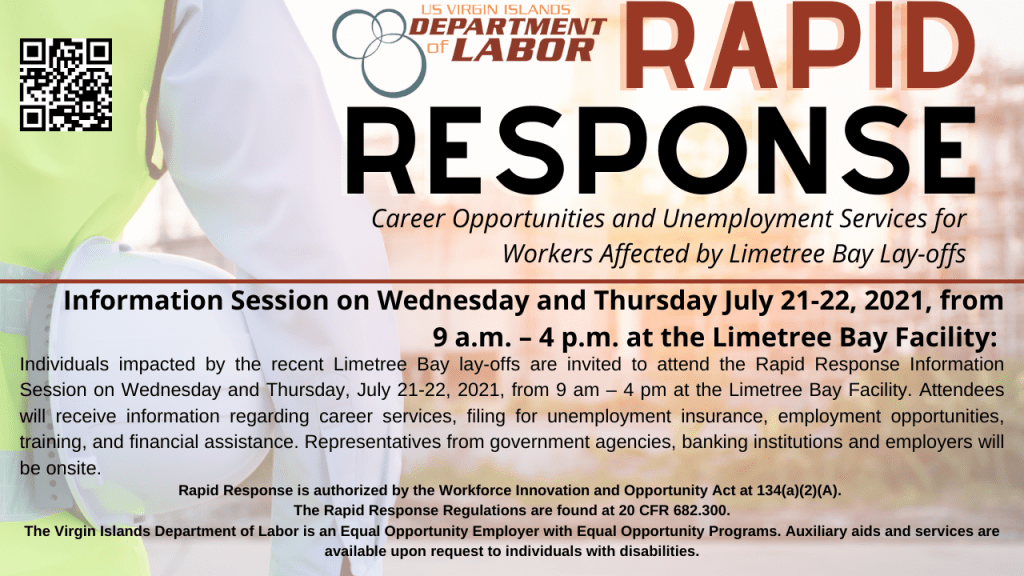 Assisting affected workers in need through service and access to information and services.
USVI–July 19, 2021– V.I. Department of Labor (VIDOL) Commissioner, Gary Molloy, continues to host outreach to support the public and individuals recently impacted by the lay-off. The service available to assist both businesses and individuals under the Rapid Response Program is provided by the state or designated entity. The mission is to deliver integrated support to help dislocated workers transition to new employment as quickly as possible.
Individuals impacted by the recent Limetree Bay lay-offs are invited to attend the Rapid Response Information Session on Wednesday and Thursday, July 21-22, 2021, from 9am – 4pm at the Limetree Bay Facility. Attendees will receive information regarding career services, filing for unemployment insurance, employment opportunities, training, and financial assistance. Representatives from government agencies, banking institutions, and employers will be on-site to provide information on employment opportunities.
Rapid Response is authorized by the Workforce Innovation and Opportunity Act at 134(a)(2)(A). The Rapid Response Regulations are found at 20 CFR 682.300.
###