July 21, 2020
Two energetic Caribbean women are getting creative with virtual classes despite COVID-19: Khnuma Simmonds of SoKh Caribbean Dance Fitness and Roberta Jeffrey-Etienne of Fit4Life Services!  These energetic dance and fitness instructors are inviting the community – locally and abroad – to join them on a virtual health and wellness journey that is fun, convenient and most importantly…safe!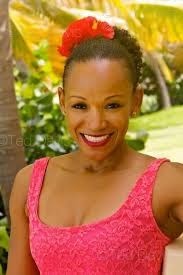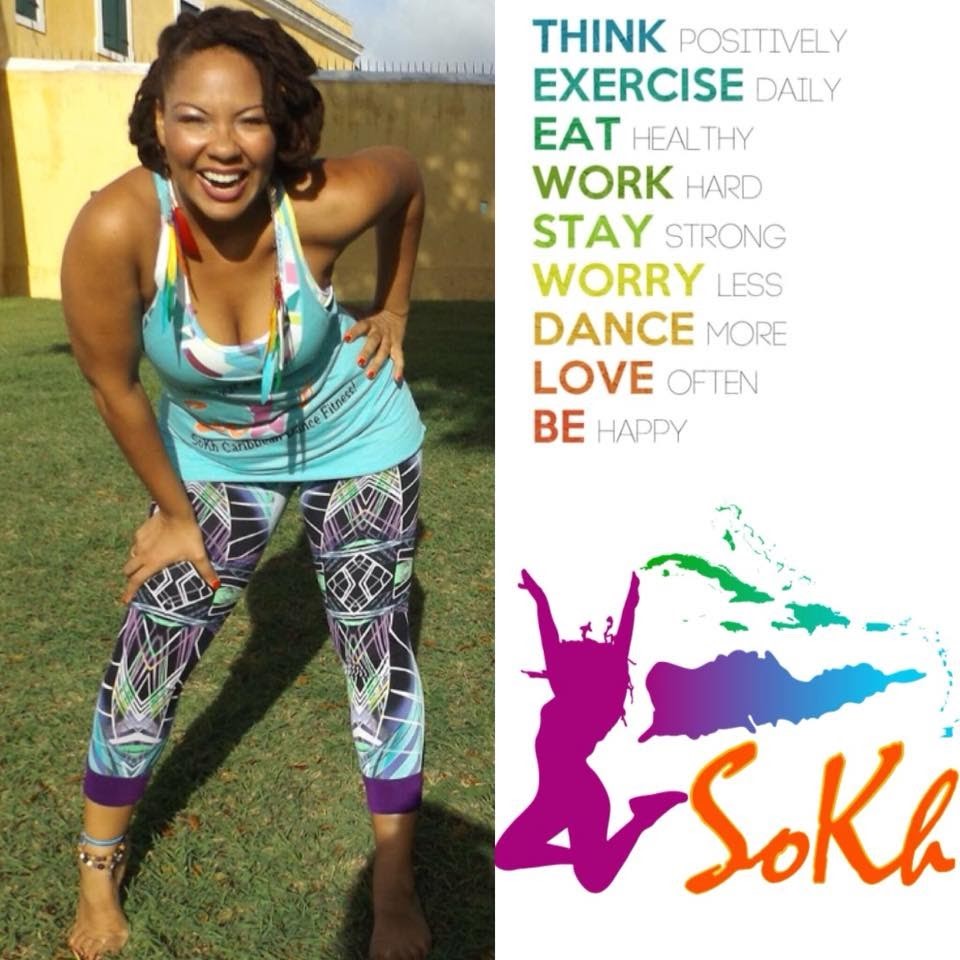 Khnuma of SoKh Caribbean Dance Fitness stated: 'Our Territory is amidst its peak of COVID cases and the best way to beat the virus is to avoid contracting it at all. Therefore,  in addition to wearing masks, practicing social distancing and complying with the recommendations of federal and local health officials, strengthening our immune system and maintaining positive physical and mental health are critical for preventing illness.' SoKh Caribbean Dance Fitness offers at least six virtual classes a week for a range of audiences, including seniors, and a range of dance styles from quadrille to soca and kizomba to bellydance. Most classes are hosted on Zoom including three of which are provided at no charge to the community through the Fit4Life and Government of the Virgin Islands Cigna Health Insurance Board Health and Wellness Series (GVI). They will also host a free class on Saturday, August 1st, 2020 via their Facebook page in partnership with a series of events hosted by My Girlfriend's Closet – a locally owned boutique also owned by Simmonds.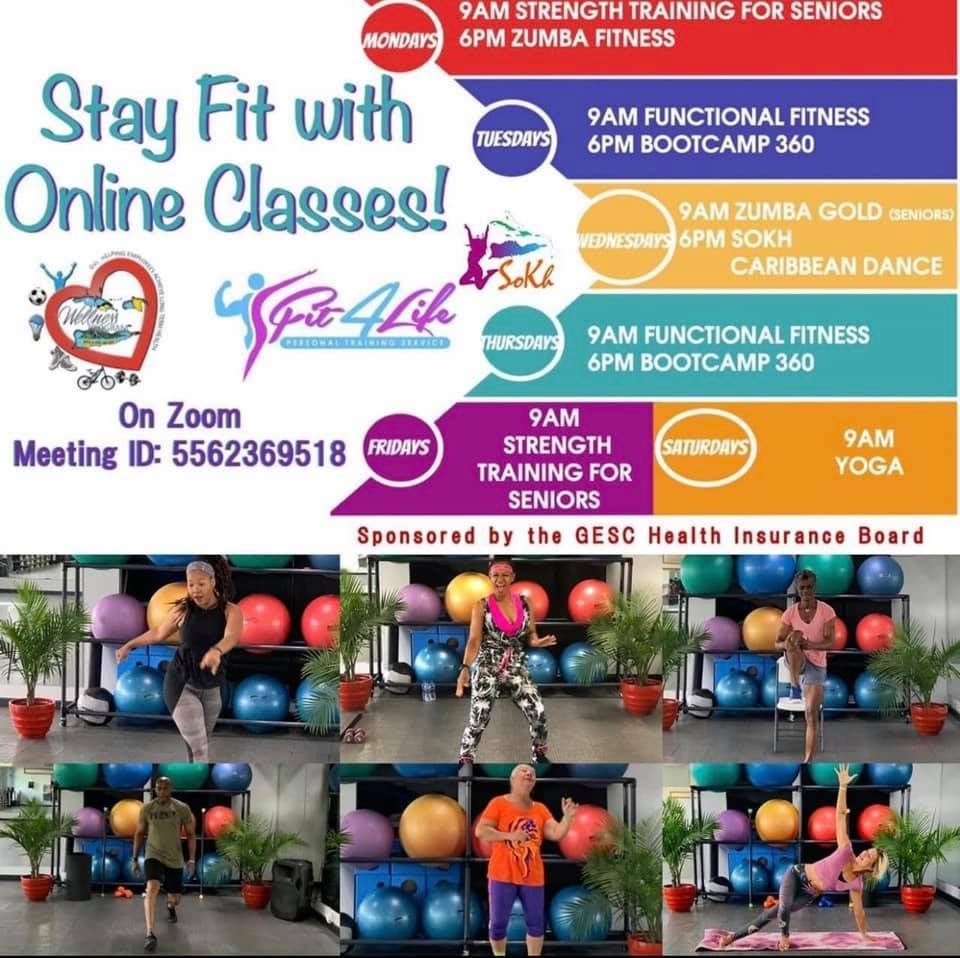 'Fit4Life Services is proud to provide fitness services to the people of the Virgin Islands and invites the community to join us as we provide daily virtual classes for the community with a variety of instructors and partners. Our greatest wealth is health so there is no better time than now to take care of ourselves!' stated Etienne. The Government of the Virgin Islands – GESC Health Insurance Board collaborative features a variety of classes including Sokh, Zumba, Bootcamp, Functional Fitness and Yoga – with the following instructors: Roberta Jeffrey-Etienne and Monsita Diaz of Zumba Fitness, Khnuma Simmonds of SoKh Caribbean Dance Fitness, Avory Resca with Yoga, Madeleine Sullivan with Functional Fitness and Antonio Stevens with Bootcamp. Classes occur from Monday to Saturday with offerings in the morning and the afternoon and can be accessed at no charge through the Zoom Meeting ID: 556-236-9518 and password: 3dpbJa.
According to the Centers for Disease Control (CDC), 'Physical activity can make you feel better, function better, and sleep better. Even one session of moderate-to-vigorous physical activity reduces anxiety, and even short bouts of physical activity are beneficial. While it may be difficult to remain physically active while social distancing, it is possible and important.' The CDC also shares vital information regarding the benefits of physical activity such as dance and stretching – including a longer life and reduced risk for chronic illness. To read more on the benefits of physical activity, please visit the CDC's site at www.cdc.gov/physicalactivity.
SoKh Caribbean Dance Fitness is a Virgin Islands fitness brand that was founded in 2008,  copyrighted Since 2012 and trademarked in 2017 by Founder, Choreographer and St. Croix Native, Khnuma Simmonds who has obtained a degree in dance from Hofstra University as well as certifications from the Athletics and Aerobics Fitness Association and International Fitness Association. SoKh Caribbean Dance Fitness has a vision of 'celebrating Caribbean women and culture through dance fitness' and is an affiliate of Girlfriendism Fitness.  Fit4Life Services is owned and led by Roberta Jeffrey-Etienne who is a Zumba Certified Instructor, Certified Personal Trainer and the only Real Ryder Certified Instructor in the Territory. In addition to virtual classes, both instructors can also be found at the Beeston Hill Health and Wellness Center which also provided access to free virtual sessions for its members through the GVI-GESC program.  For more information on SoKh Caribbean Dance Fitness virtual and in person classes (restrictions apply), please follow them at www.facebook.com/sokhdancefitness or on Instagram @sokh_caribbean_dance_fitness or email them for a full schedule at sokhdancefitness@gmail.com. For more information on Fit4Life Services including Real Ryder classes, please email Roberta at rvjeffrey@gmail.com. For more information on the free virtual fitness classes for government employees and retirees, please visit their FaceBook page at www.facebook.com/gvihealth