In a 1pm press briefing today, Governor Albert Bryan, Jr. announced to the public that as of Monday August 17 at 6am, the Territory will be rolled back to Phase Orange: Stay at Home Orders. In referencing the surge of positive COVID-19 cases on St Thomas, he noted that it affects the resources of the Territory as a whole similar to when a major Hurricane hits one island. Resources from St Croix have already been routed to St Thomas to assist with the surge on that island.
Additionally, as we face a potential very active hurricane season, the GVI hopes to avoid complicating the storm season with an outbreak.
In two weeks a re-evaluation will be made to assess if it is safe to advance to Phase Yellow: Safer at Home. The Territory is not expected to move back to Phase Blue: Open Doors (the current status) for at least a month.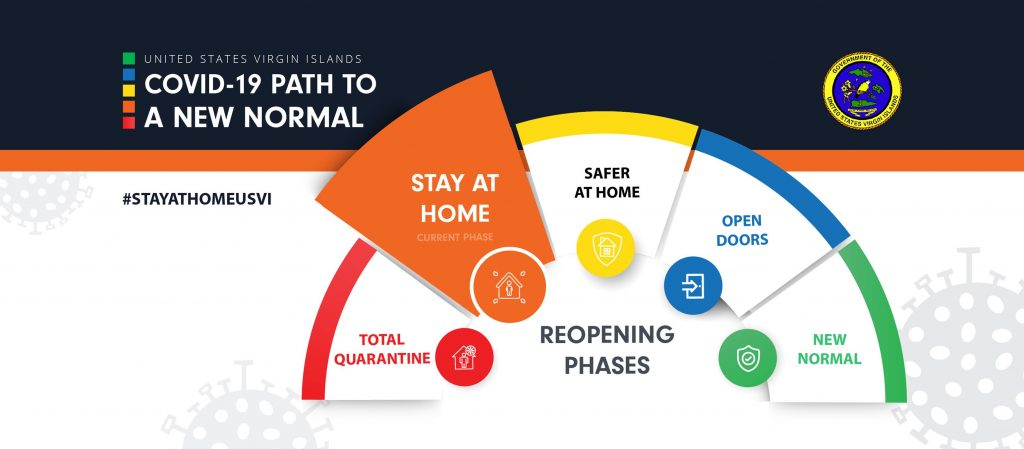 Phase Orange: Stay-at-Home Orders
Effective Monday August 17 at 6am, the Territory reverts to Stay at Home Orders.
All non-essential businesses ordered closed.
Non-essential public workers are to remain at home.
The prohibition of new leisure travel reservations is effective immediately, and on Wednesday, August 19, 2020, those businesses are prohibited from admitting any new check-ins or registering any new guests for 30 days unless the order is lifted sooner. The new restriction does not apply to business travelers, , emergency personnel, flight crews or government guests with written authorization from the government agency they are visiting. As of Wednesday, August 19, 2020, All hotels, guest-houses, villas, bed and breakfasts, shared economy hospitality bookings, AirBnBs, any temporary vacation housing, charter vessels, or any similar business known by any other terminology, shall not accept, receive, check-in, or register any guest for a period of thirty (30) days unless earlier lifted, extended, or amended by order of the Governor of the U.S. Virgin Islands, except for emergency personnel, flight crews, business travelers and government guests with written authorization from the Government Agency for whom rendering services.
Locals are encouraged to restrict travel to urgent and essential business travel only.
All public, private, and parochial school campuses in the Territory are ordered closed. Virtual learning is still permissible.
Churches are to remain closed during the Stay-At-Home Order.
All beaches are ordered closed on the weekends and holidays at 12 noon.
All restaurants are restricted to takeout, delivery or drive-thru food service only.
All bars, nightclubs and cabarets are to remain closed so long as the Territory remains in a State of Emergency.
All taxis and safaris are limited to half capacity as long as the Territory remains in a State of Emergency.
The prohibition against mass gatherings remains in effect; however, under the "Stay at Home" status, mass gatherings are defined as any event or convening that brings together more than 10 persons in a single room. A mass gathering does not include operations for standard essential services and infrastructure, such as grocery stores and bi-box stores, airports and seaports or medical facilities.
The Governor stated that the administration has worked to balance public health, economic well-being and personal freedom throughout the pandemic. But, at this moment the Public Health crisis is most pressing. The goal of this order is to stop all movement and all gatherings until the spread of COVID-19 is back to a manageable state.
The Chamber empathizes with all business owners during these strenuous and unpredictable economic times. We implore the Government to actively & consistently ensure that the community is adhering to the strict protocols set forth by the Governor so we may regain control of this health crisis and prevent further outbreaks from occurring. Without regulation, we will undoubtedly fall victim to further outbreaks. The Government must not simply shutdown the economy without enforcing the penalties, or we will be stuck in a vicious "on again off again" cycle which will only hurt business owners further.
Visit our COVID-19 Updates & Resources page
To review: Executive Orders
DOH inspections of sanitization equipment
Also beginning Monday, August 17, the Virgin Islands Department of Health will begin inspections of all glassware and utensils sanitization equipment and procedures in licensed restaurants, either by request or incidental inspections.
The purpose of the inspections is to certify whether such dishwashing and sanitization equipment meets Department of Health requirements and could result in the establishment being exempt from the required use of disposable dishes, utensils, napkins and drink containers.
Upon certification that a licensed restaurant's dishwashing procedures meet the Department of Health requirements and the lifting of the dine-in suspension, said restaurant shall immediately be issued an exemption certificate.